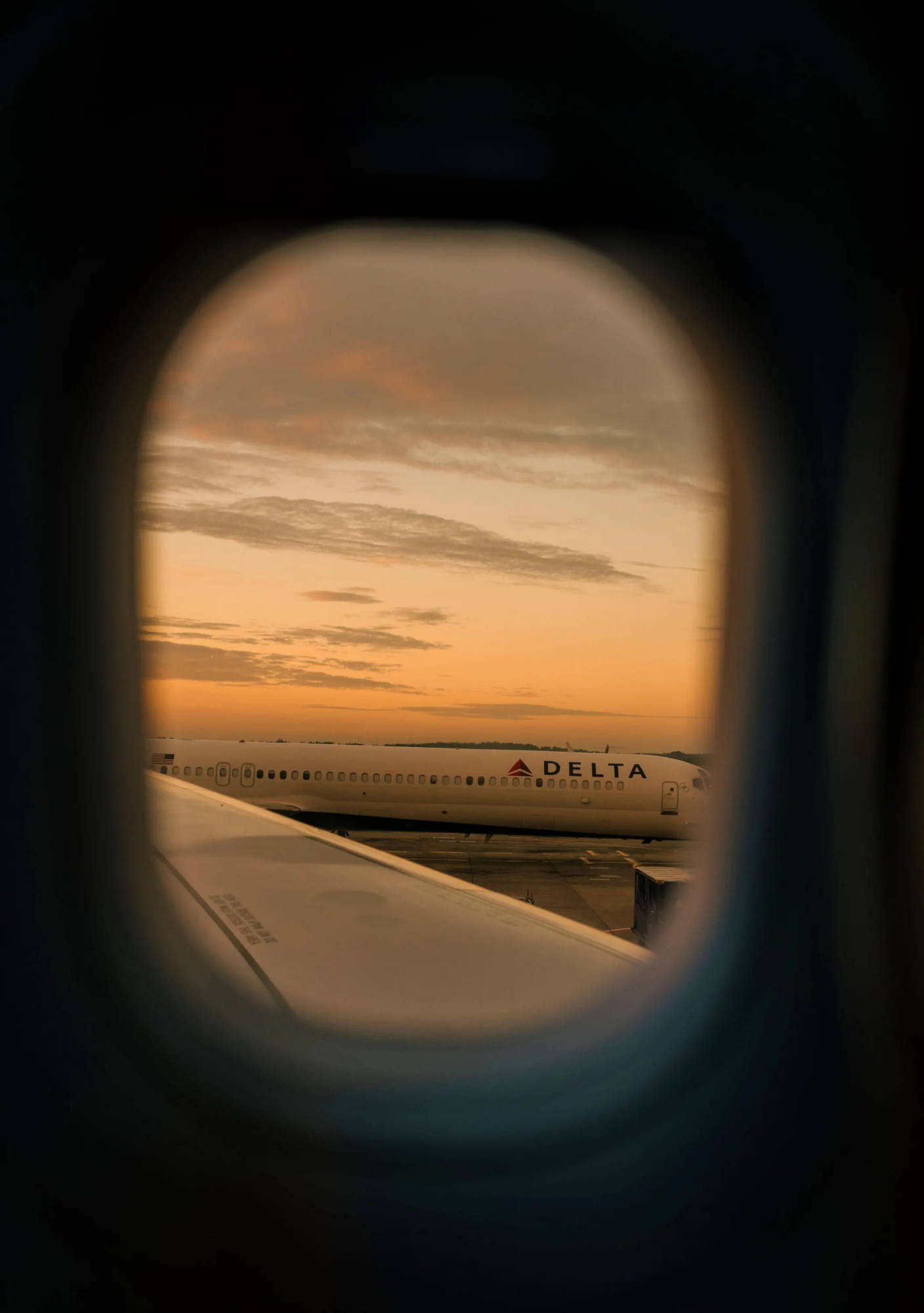 Today's post is part 4 of the 6 part Walt Disney World series: The Travel Day to Disney!
A quick reminder that this series is broken up in 6 parts:
The Planning - part 1

The Planning - part 2 - dining and FastPass+ reservations

The Packing

The Travel Day to Disney: our experience flying and arriving at Disney

The Review of Disney Beach Club

The Parks
And to wrap it up, one of my BFFs, Kelly, went to WDW with us - so she'll be doing a guest blog post to share her perspective, since they drove with 2 small boys from Pennsylvania to Florida, and targeted a lot of their activities towards the boys.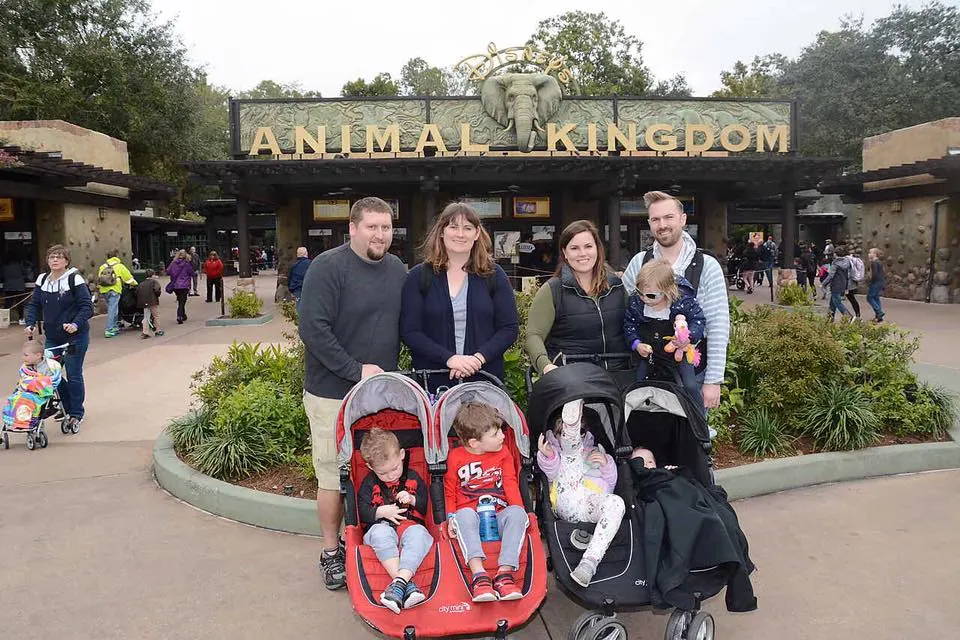 Here's Kelly's family and mine at the entrance of Animal Kingdom
And of course, DISCLAIMER: I am NOT being compensated for any of this content. This is an UNBIASED review of OUR EXPERIENCE as first-time WDW visitors, with 3 kids under the age of 5. If you were to be visiting WDW as say, a honeymooning couple, I expect your experience will be vastly different :)
TRAVEL DAY TO DISNEY = SNOW
As I watched the forecast leading up to our flight, my anxiety rose - snow (and lots of it) was anticipated on departure day. And that entire week was expected to be -40 degrees(ish) at home. I was terrified of bad road conditions, and possibly not getting out of Detroit at all!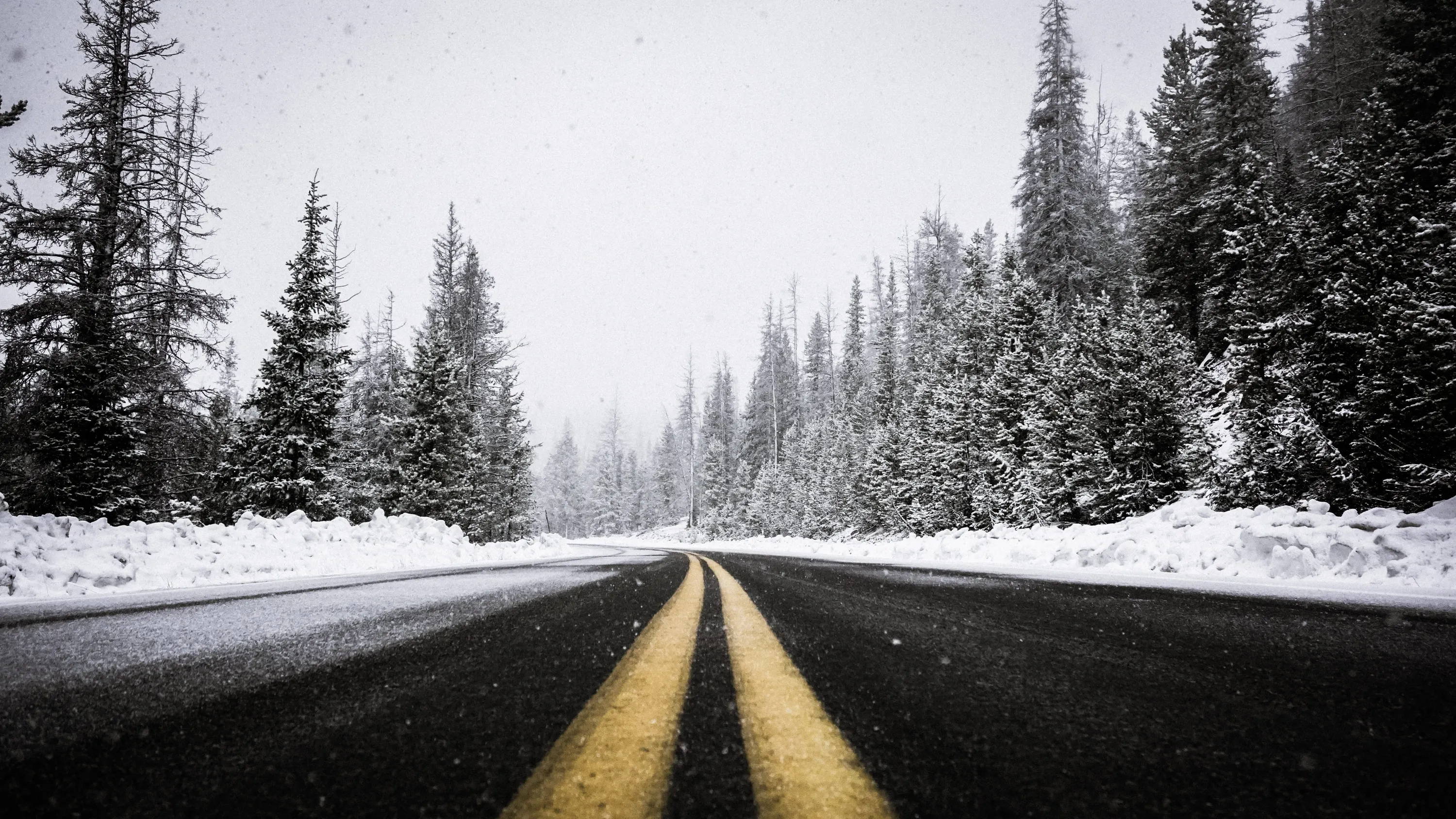 To deal with our travel on possible bad roads, we left much earlier for the airport than originally anticipated. (warning: getting into some itinerary details here, which aren't always super exciting!)
We live about an hour from Detroit airport, and our flight was direct from Detroit to Orlando at 10:20am. So working backwards (as we planners like to do!)... here was our departure day schedule:
-5:00am alarm for me and Luke, shower and pack up car
-6:30am wake up kids, get them dressed and loaded into car
-7:30am leave house
-8:30am arrive at airport
Thankfully our drive to Detroit was smooth sailing, with zero snow to be seen, but as I kept refreshing the radar, I could tell we were going to be lucky to make it into the air.
When we got to the airport, I dropped Luke off at the entrance to check his bags and the kids' bags. This freed us up without having to park and then haul all the suitcases thru the parking garage inside. We then parked, loaded Levi into the Lillebaby carrier and the girls into the double stroller (we LOVE our Citi Mini side by side.. it fits through most standard doorways and is super light weight but durable), and trekked towards security.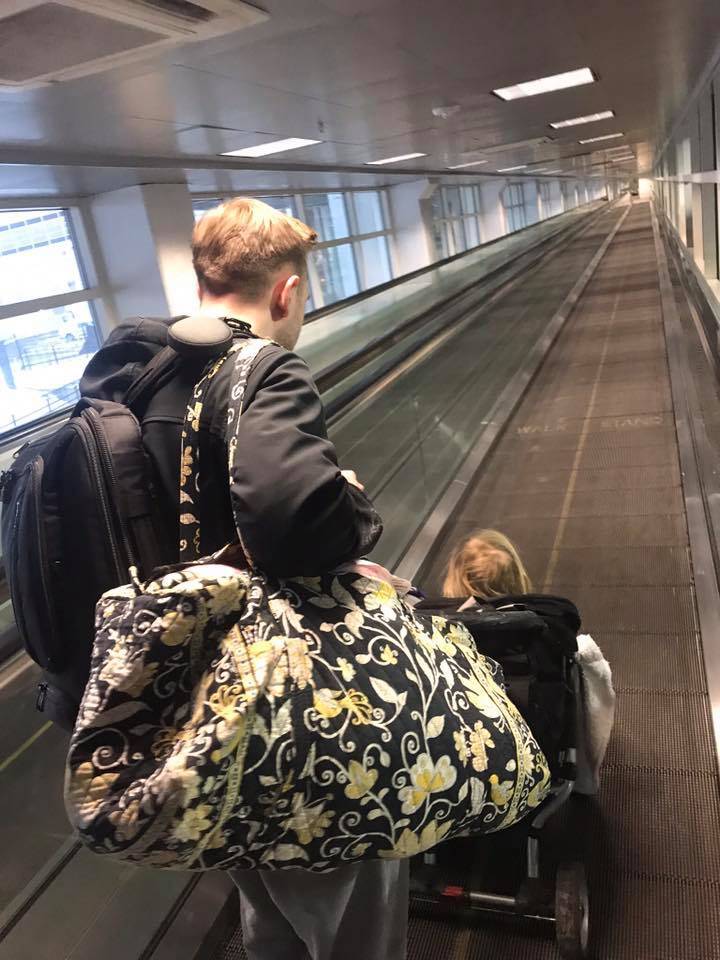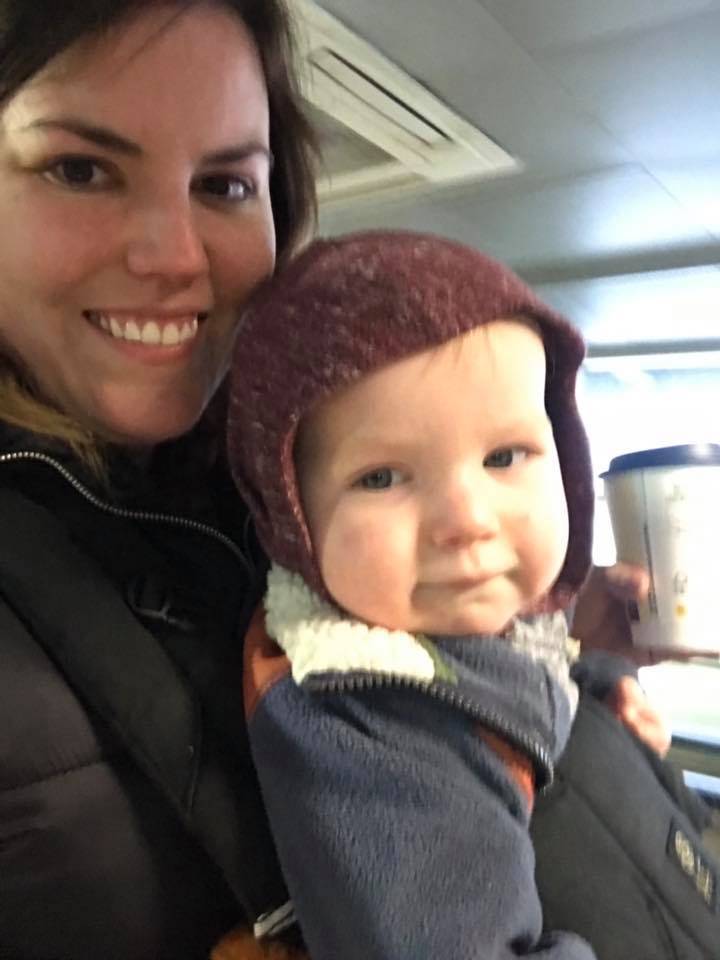 Trekking through the airport to security
Also, flying tip: if you're flying with kids you are usually automatically given TSA pre-check. Hallelujah! Easy peasy and QUICK getting through security. Snacks are allowed but remember that sippy cups need to be empty.
The only casualty of our time through security was forgetting Norah's pillow on the security belt, but was later recovered. ;)
If you haven't been in an airport with kids, let me tell you…through the eyes of a child, everything is AMAZINGGG (think Elsa in Frozen - "this is amazinggg!") at an airport. Especially those moving sidewalks and water fountains! Once we got to the gate we loaded the kids up with snacks and drinks - remember that straws and suckers are good for takeoff and landing so be sure to be prepared - and I anxiously kept checking the radar.
(Can you tell I was nervous/excited/antsy/just wanted to be there???)
Another recommendation when flying with kids: flight attendants will allow families who "need extra time" to board prior to other passengers. Take them up on that. The kids love to run down the aisle to their seats, hop around before getting settled, and just generally get used to their surroundings.
As we boarded, the captain announced that we would need to de-ice before takeoff - which is one of the last things you want to hear when flying with 3 kids because it means more time in the plane. However, THANKFULLY, the girls were perfectly happy with their tablets and headphones, Ava colored a lot, and Levi ended up falling asleep on Luke (no medicine needed). We ended up sitting on the runway about an extra 45 minutes but safely made it into the air and to Orlando.
I'm going to jinx myself for the next time we fly, but I'm going to say it. Flying with the kids actually went really smoothly! There were a few moments of juggling them around between me and Luke, but I actually even got to watch a little bit of a movie while Norah sat on my lap and watched her tablet. Shocking! I had also packed their "snack packs" with strawberries, crackers, string cheese, and little cookies - which kept them very happy. (My definition of success = no crying from our kids. WE SUCCEEDED.)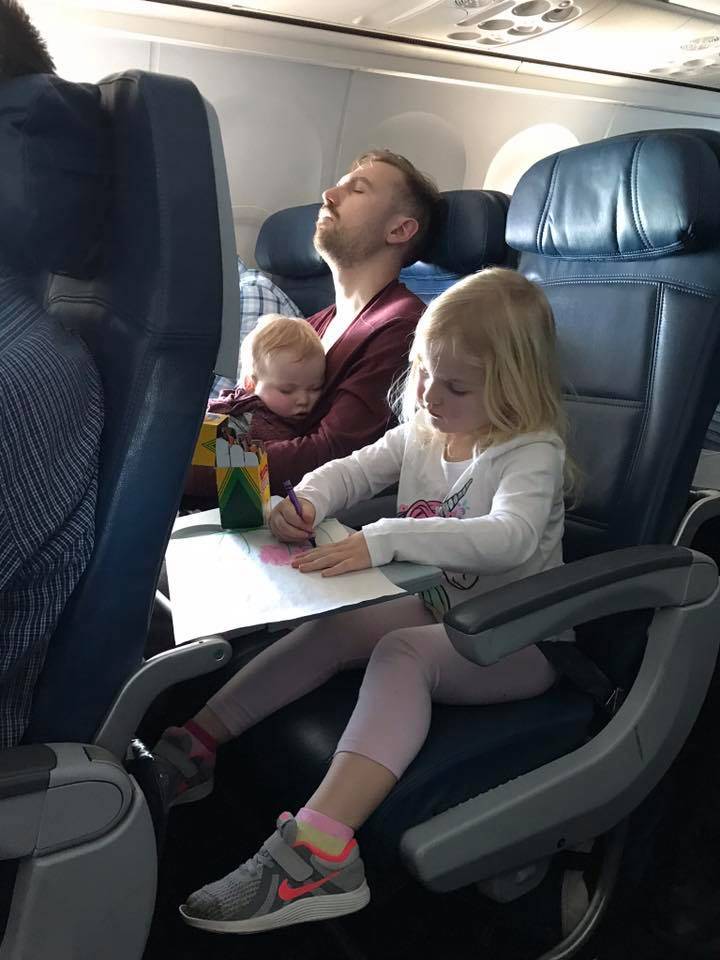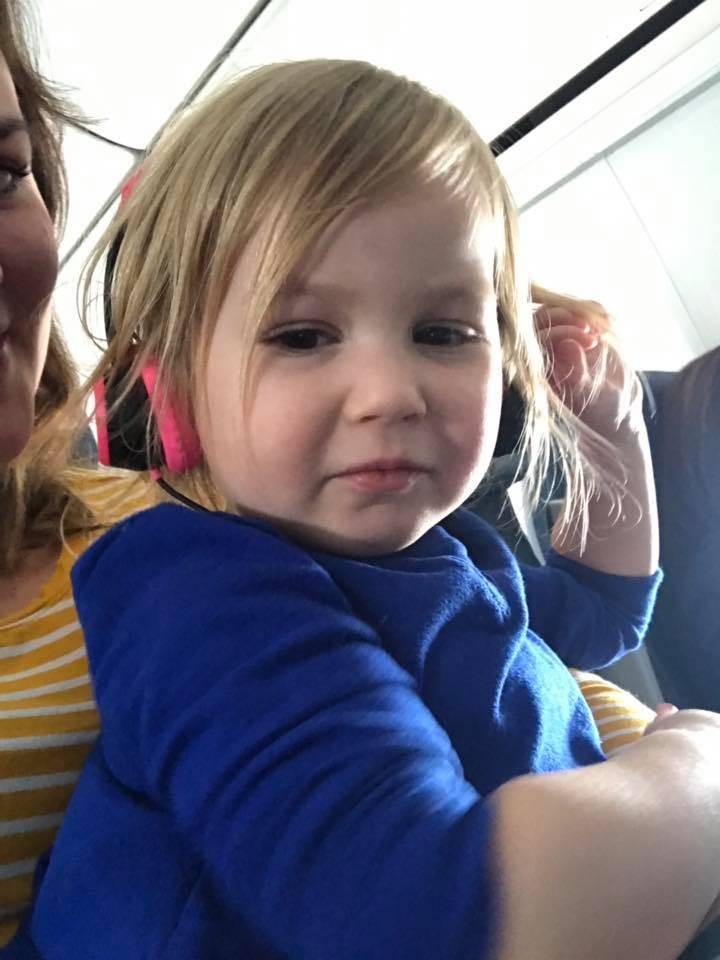 WHEN WE LANDED, "HANGER" KICKED IN
Once we landed in Orlando, despite the snacks, everyone was HANGRY. We landed after lunchtime, and really the only food option by our gate was a Nathan's Hot Dog stand. At that moment I wished we had packed some sandwiches or something more filling! We quickly ate some food while I dug out our Magic Bands, and then followed the SUPER obvious signs for the Magical Express! (I talk more about the Magical Express in this post.)
We quickly made it through the "lanes", and the Disney cast members guided us directly to the bus for our resort, Disney Beach Club. The buses are large coach buses with air conditioning and TVs, and have storage underneath where we put our stroller and carry-ons (remember - Magical Express tags on our luggage brought our checked bags directly to the resort!). Our bus had barely any people on it, so we had several rows to ourselves. Norah fell asleep curled up in her seat (which literally NEVER happens) and Levi kept pointing out the window and saying "wee! so esscited!" Those are the moments I'll never forget and are just so sweet to look back on. The, "we finally almost made it to Disney!" moments!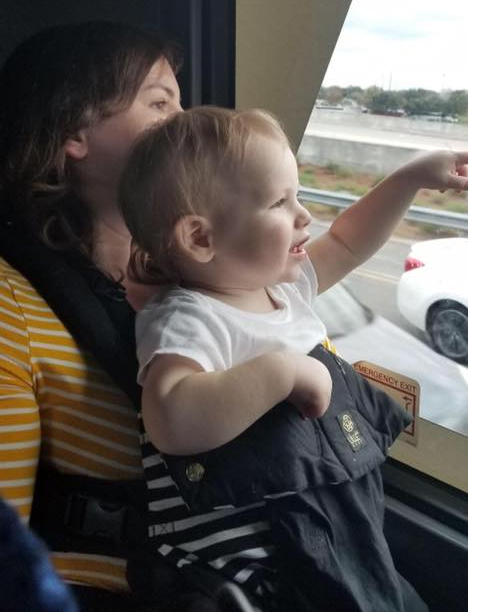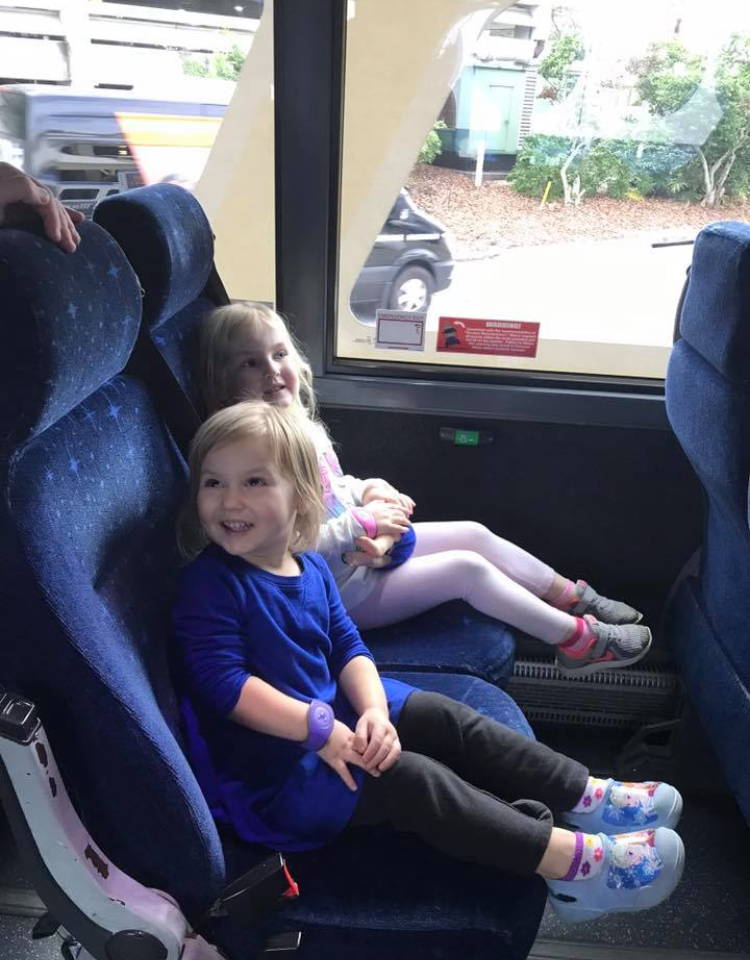 The drive took about 20 minutes to our resort, where we easily unloaded from the bus right at the main entrance and guided to check in. Note: you cannot tip Disney cast members inside the parks, but you CAN tip at the resorts - so of course we tipped our bus driver who was very friendly and helped us unload our luggage. All of the Cast Members were smiling and friendly, and I was blown away by our first moments in the resort. I'll get into this more in the next post - Disney Beach Club isn't as "themed" as some other resorts, but is absolutely gorgeous and comforting.
We arrived around 3:15pm, the resort lobby was basically empty aside from the helpful staff, and the Cast Member at the front desk was extremely thorough and helpful. I will say - after traveling since 7:30am, we just wanted our room key, dash up to our room, get rid of our bags, and let the kids explore!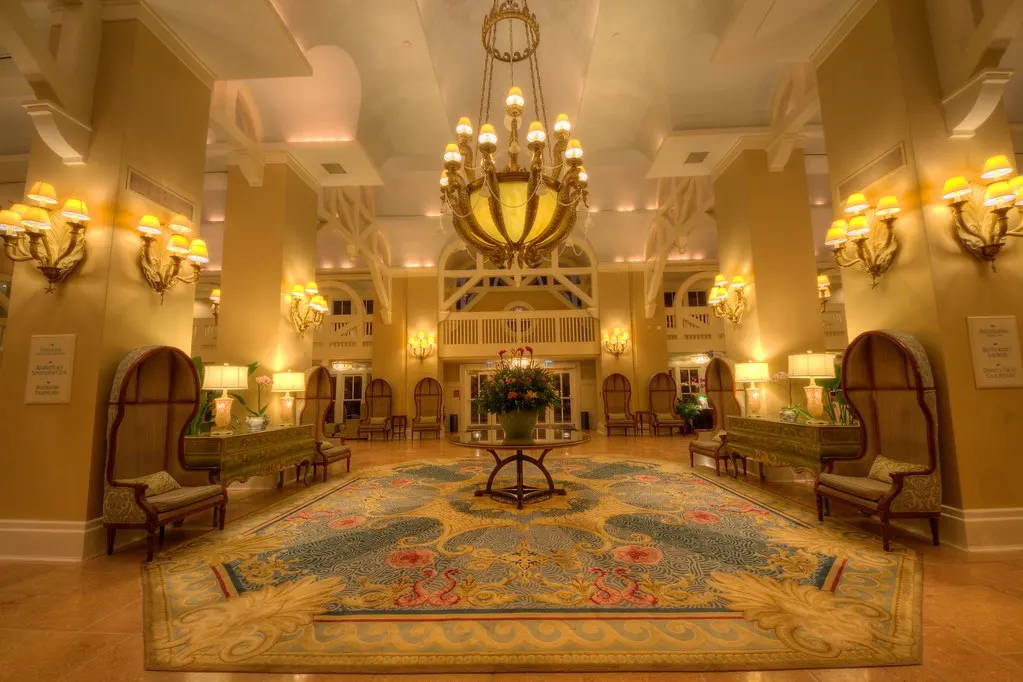 The lobby of Disney's Beach Club
We finally managed to make it up to the room after about 15 minutes in the lobby. (I'll post a longer review of our room and resort in the next post) After exploring the room we somehow managed to get the girls down for a nap in the "big bed" (ahem, bribery…), and I went to explore the Beach Club property and Boardwalk with Levi in the stroller. It was a beautiful evening which added to the magic of my first day EVER on Disney property!!! (I am not a big "crier" - every time I do cry, Luke acts shocked...so when I say that I teared up a few times, that's a big deal… the first moments of all my dreams of visiting Disney had finally arrived and it was hard to not feel emotional.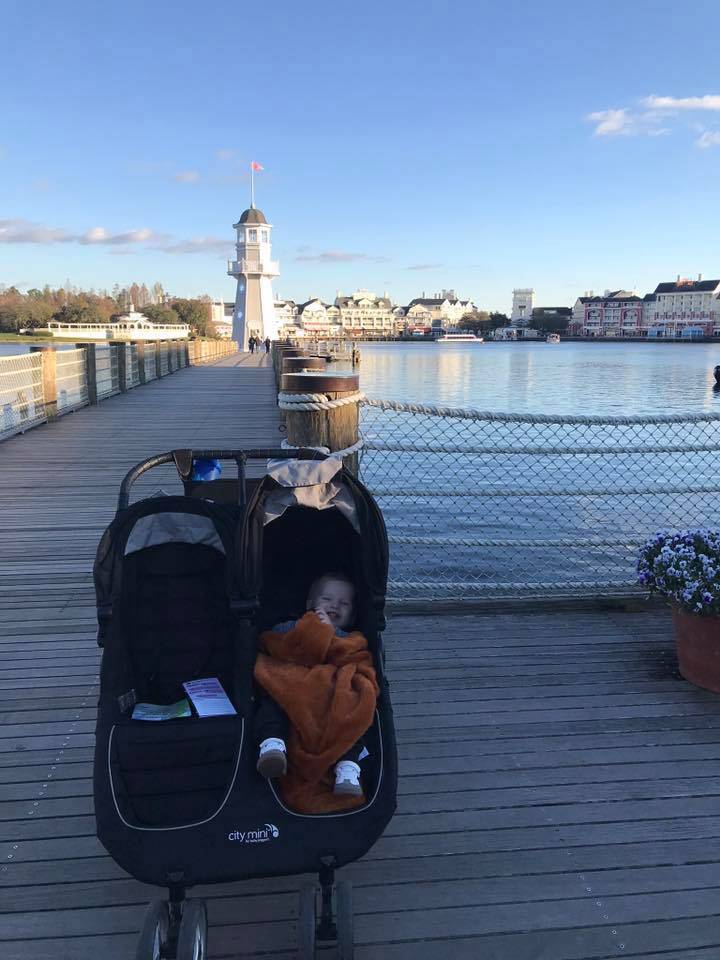 First dinner on property!
After my walk (and Levi's nap in the stroller), we woke the girls up so we could all grab dinner at Hurricane Hanna's - a Quick Service (QS) restaurant on Beach Club property, technically labeled as a poolside bar. Remember - we had the meal plan, so we needed to use our credits! During my planning, I read reviews about QS restaurants on property basically saying "eh, they aren't great" - but from my perspective - it was fresh and delicious! I had a grilled chicken sandwich that shockingly wasn't dried out and Luke had a bacon cheeseburger which was AMAZING... and we were pleasantly surprised when we discovered all adult meals came with an ADULT BEVERAGE. (insert all the praise hands!) After a long day of traveling - we THOROUGHLY enjoyed those beers. Kids enjoyed their chicken, fries and juice box - which, excitingly, came in a sand pail with a shovel! Toys to use in the pool later!
We took a leisurely little walk and played in the sand after dinner. The temps had drastically dropped - it was mid 40s - so the kids were in their winter jackets with bare feet in the sand. When you give Ohio kids a hint of warm weather, they are totally going to take advantage!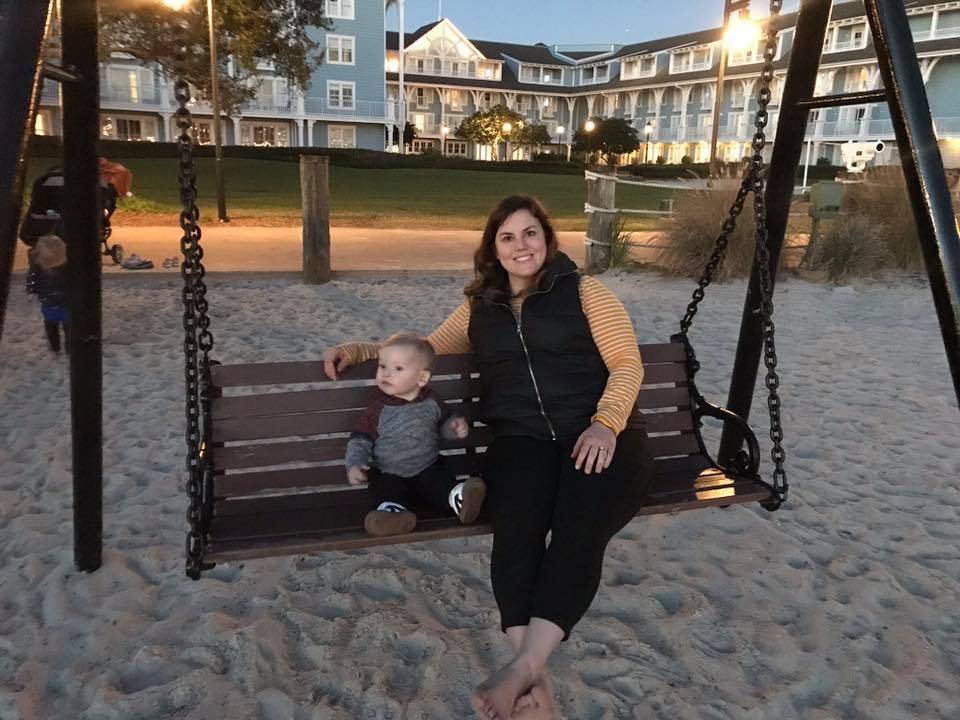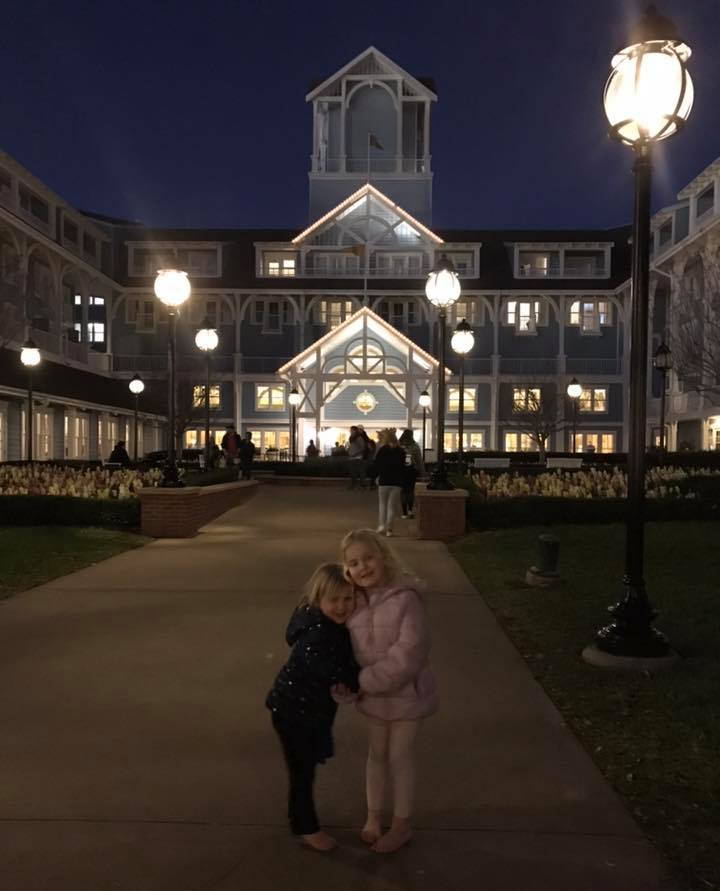 It was a low-key evening, but gave us an opportunity to explore the resort and get comfortable with our surroundings. By the time we got back to the room, everyone was EXHAUSTED. (Thankfully - ha!) We did a quick bath in the BIG tub, then Levi easily went to sleep in his pack n play (another tip - pack a blanket for baby that smells like home. He curled right up with his) and the girls fell asleep really easily on the pullout couch. Personally, I was *almost* too excited to fall asleep since Magic Kingdom was on the schedule for the next morning!!! But that phenomenal bed got me snoozin'...
In a nutshell, our travel day and first day on Disney property was magical. As anyone knows, travel (even without kids) can be stressful and exhausting, but when you have an amazing destination waiting for you - it truly makes it ALL worth it. I hope everyone's first moments at Disney are as lovely as ours were.
Up next: my full review of Disney's Beach Club resort. Stay tuned!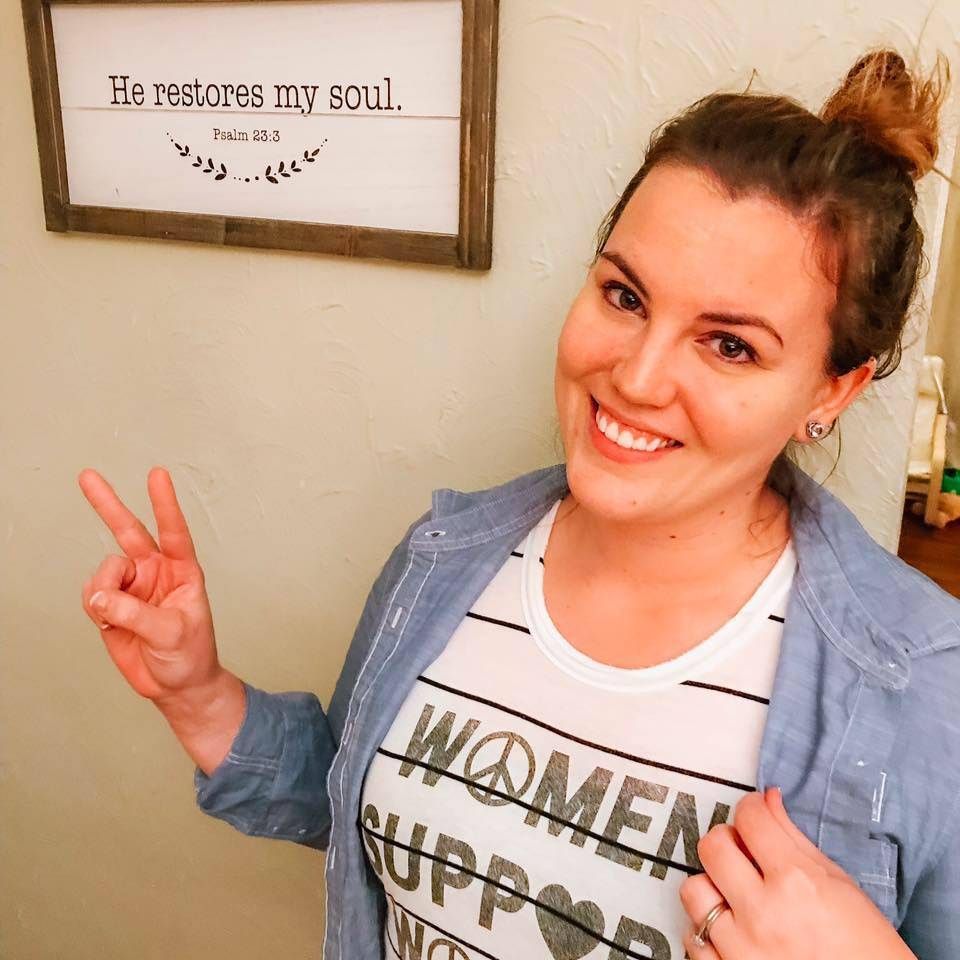 Kirsta is a millennial wife and mom of three just doin' her best.
A nonprofit fundraiser by trade who believes in the magic of under-eye concealer and a good eye brightening stick, she follows Jesus's standard for loving others. In her free time, she can be found watching Netflix with her husband, scrolling Instagram stories, or pacing in the kitchen to log steps on FitBit challenges.