Y'all - it's been awhile! And I say y'all because I spent some time in Arkansas with family last week, so now I've picked up the Southern twang a little. (if you haven't seen my video of Ava, my oldest, speaking with her southern accent, go watch it on my Facebook! It's hilarious.)
As life goes, I haven't prioritized getting these posts up. Luke's grandpa passed away, I had quite a few evening work events (which is when I usually get my blogging done), and had lots of family birthdays, including my mom's 70th which involved a trip up north in Michigan. Phew, I'm tired just typing that! Back at it today, bringing you...
Part 3 of the Walt Disney World series: The PACKING!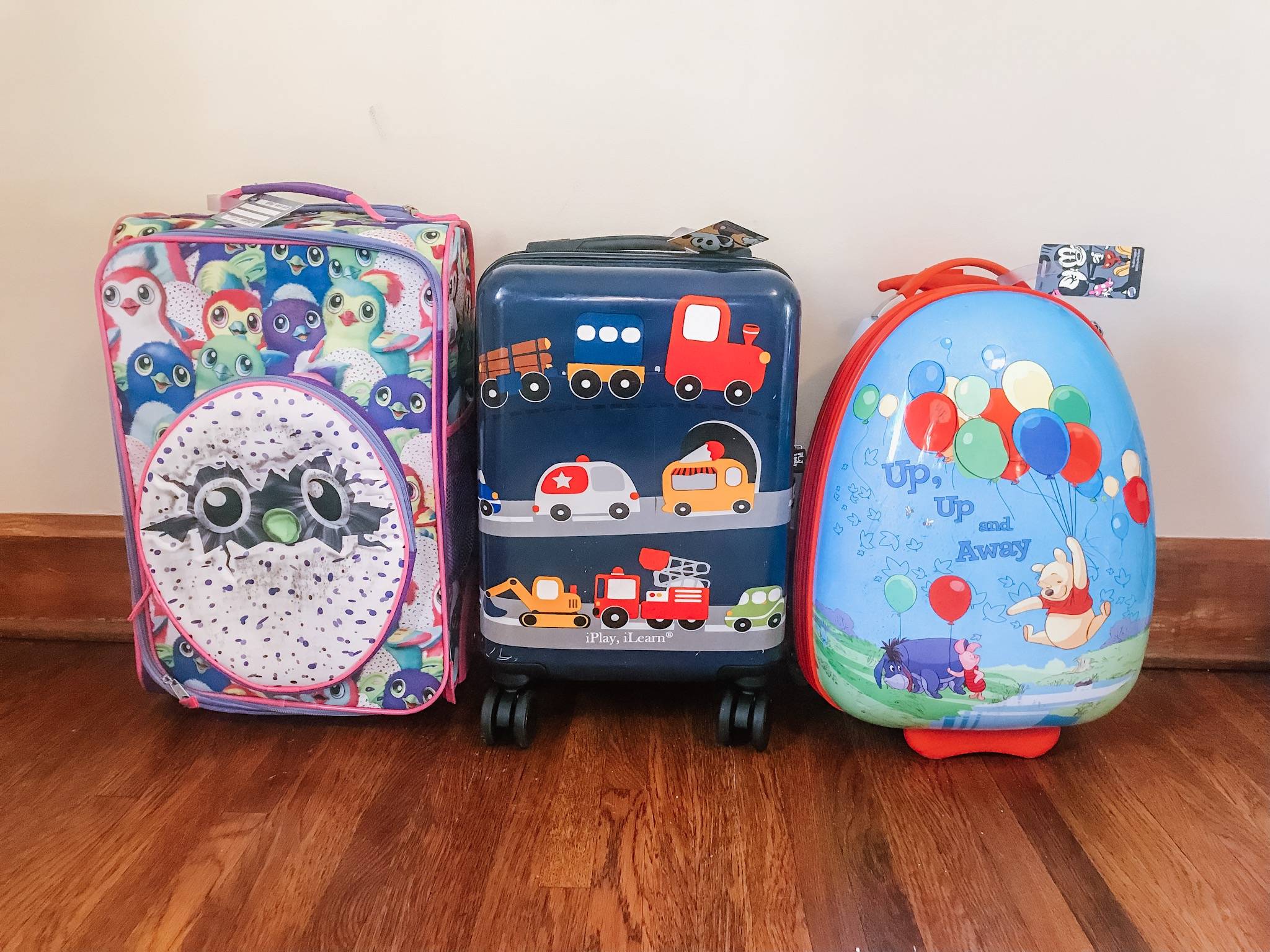 A quick reminder that this series will be broken up in 6 parts:
The Planning - part 1

The Planning - part 2 - dining and FastPass+ reservations

The Packing

The Departure Day: our travel experience flying and arriving at Disney

The Review of Disney Beach Club

The Parks
And to wrap it up, one of my BFFs, Kelly, went to WDW with us - so she'll be doing a guest blog post to share her perspective, since they drove with 2 small boys from Pennsylvania to Florida, and targeted a lot of their activities towards the boys.
And of course, DISCLAIMER: I am NOT being compensated for any of this content. This is an UNBIASED review of OUR EXPERIENCE as first-time WDW visitors, with 3 kids under the age of 5. If you were to be visiting WDW as say, a honeymooning couple, I expect your experience will be vastly different :)

THE PACKING
If you do a quick Google search, you can find a GAZILLION Disney packing lists. However, for a person with 3 kids under the age of 5, I felt like our packing needs were a little different than what you'll find all over the internet. Below I share a few quick tips, and then get into the detailed packing lists. (sorry, no fun printable graphic with our packing list!)
PACKING TIP #1: When traveling to Disney with kids, check as many bags as you can
We flew to Orlando from Ohio, and have free checked bags due to our Delta Gold Card. If you fly Delta, get a Gold card! There is an annual fee of $95, which is waived the first year, and after that it pays for itself with just a few checked bags - which usually cost $25/bag to check!
So we checked as many bags as possible to keep our hands free. We took the stroller to the gate, Ava brought her backpack as her carry-on with toys/tablet/headphones, Norah had a backpack of toys, we had a diaper bag backpack, and another duffel of spare clothes (just in case). Plus the girls insisted on bringing blankets on the plane… *facepalm*
In true anti-blog fashion, here's a bit of honest reflection - this was too many bags for us. With 3 kids under 5, we had to have hands on the kids, which meant no hands for "stuff", and the kids weren't exactly capable of keeping track of their own stuff....so, the airport was a LITTLE (ahem...a LOT) chaotic.
If I were to do it differently, I would have brought the essentials in only ONE duffel bag. Then we'd have just the kids + one bag + one stroller to worry about!
PACKING TIP #2: Use the Magical Express to have your checked bags delivered directly to your room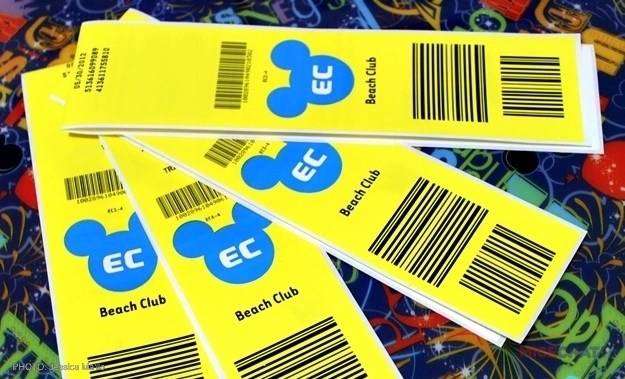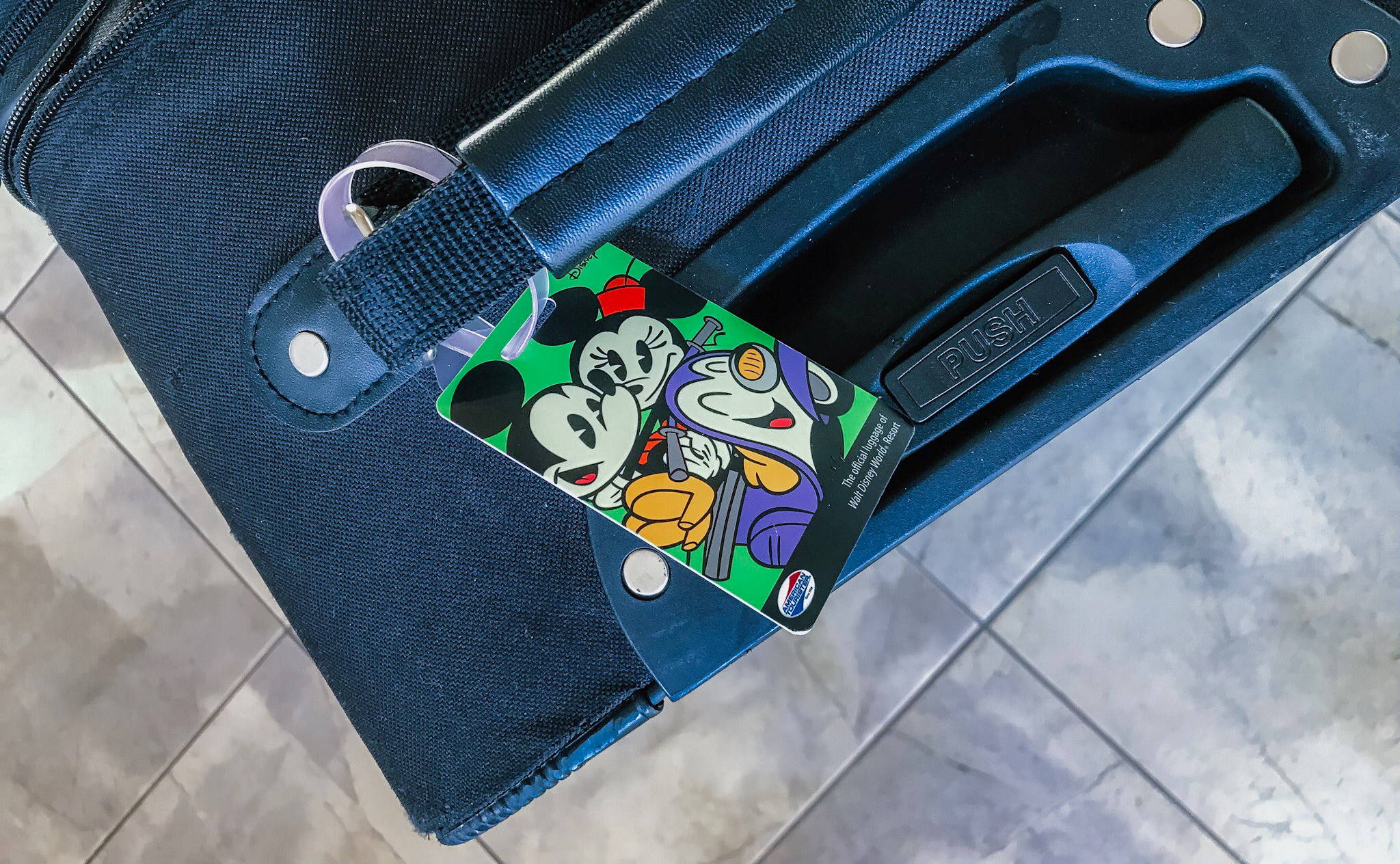 Left: yellow Magical Express tags.                                                   Right: Disney luggage tags.
When flying, you have the option to take the Magical Express to the hotel. I'll talk more about this experience in my next post, but definitely be sure to sign up for this service! It's quick and convenient.
If using a travel agent, they can sign you up, and then Disney mails you tags (see yellow ones above) to put directly on your checked bags, and voila, your bags appear magically in your room.
They also mail you cute Disney themed luggage tags which you can write your contact info on (see green tag above).
DISCLAIMER: It can take several hours after arrival for your bags to arrive. Which is why we packed extra clothes in a duffel bag carry-on, in case the kids wanted to swim when we got to the hotel or someone needed a fresh change. .
PACKING TIP #3: Leave room for souvenirs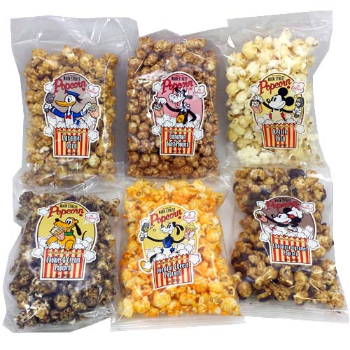 Many people will recommend throwing an extra duffel bag in a suitcase, so that you can bring home souvenirs. I did NOT do this, and regretted it!
We bought way more than I anticipated - popcorn, bubble wands, ears, coffee, etc - and wished I had an extra bag to bring it all home. (y'all…. The mixed bag of caramel corn + chocolate covered popcorn is TO DIE FOR!)
PACKING TIP #4: Pack snacks.....but also use Amazon Prime Now or Instacart to have things delivered to your hotel!

With having 3 kids, we always have snacks shoved into the diaper bag. Applesauce pouches, granola bars, crackers, etc. But some snacks are terrible to travel with - AND, with grocery delivery now being a common service, it's easy to get snacks delivered to your hotel room! Disney resorts even have a fridge that they will store groceries in.
(While we did have a meal plan, our kids have their favorite foods that we love to have on hand at all times, which is why this was a great option for us.)
Amazon Prime Now (note: it's a different app than Amazon Prime) is what we used. You can order everything from Goldfish crackers to beer and wine. Here's what we had delivered to the room:
String cheese

Applesauce pouches

Cereal

Milk

Juice

Bottled water

Fruit (strawberries & grapes)

Beer

Diapers
PACKING TIP #5: Pack the kids' luggage WAYYY in advance so you don't have to worry about those random "oh I bought that Disney shirt at Target for $5, where is it?" moments at the last minute!
We had received a lot of Disney gifts for Christmas a few weeks before our trip, including autograph books, pens, Disney clothes (Kohl's and Target have the cutest stuff with great deals!), and ears. I hid most of this stuff from my kids right after Christmas so we wouldn't lose them in the abyss of our house...
I also had purchased Disney princess dresses to surprise the girls on the day we were going to Bibbidi Bobbidi Boutique - so had to hide those too!
I packed the kids' suitcases a few weeks in advance and tucked everything away in advance of the trip.
Alright, let's get into the official packing lists!
Carry-ons:
Tablets

Headphones

Coloring books & crayons

2 books

Wallet

Sippy cups for kids

Chapstick

Granola bars

Applesauce pouches

Crackers

Magic Bands for boarding the Magical Express

Disney Rewards Card

Diapers & wipes for travel day (had extra diapers delivered to hotel room)
Checked Bags:
Outfit for each day + 3 extra (it was chilly when we were there, so packed mostly long sleeved shirts and pants, with a few t-shirts and one pair of shorts)

Bathing suits

Sunscreen

Toiletries (toothbrush, toothpaste, makeup, hair products, etc.)

Baby carrier (our Lillebaby 360 was an amazing lifesaver)

Kids' costumes & mouse ears (like I said above, I surprised my girls with new princess dresses the day of our Bibbidi Bobbidi Boutique appointment!)

Autograph books & pens

COMFORTABLE shoes and socks - remember, you'll be walking a ton!

Dressy shoes for girls to wear with costumes

Flip flops for the pool
A few things you don't need to worry about packing if staying at a Disney resort:
Towels - hotel provides these

Shampoo/conditioner/lotion/body wash - the Disney toiletries are AMAZING and PLENTIFUL

First aid supplies - Disney resorts have a stock at the front counter
As you well know if you've been following the series - I'm writing from OUR experience of having 5 people fly to Disney. And 3 of those 5 were under the age of 5.. Haha. So our situation was very specific -- and we learned a LOT. We'll be making some adjustments when we travel next time! I hope by sharing these packing tips, someone else will find some use in an upcoming trip!
Now, get to packin'!
Solidarity, Sister
X
Kirsta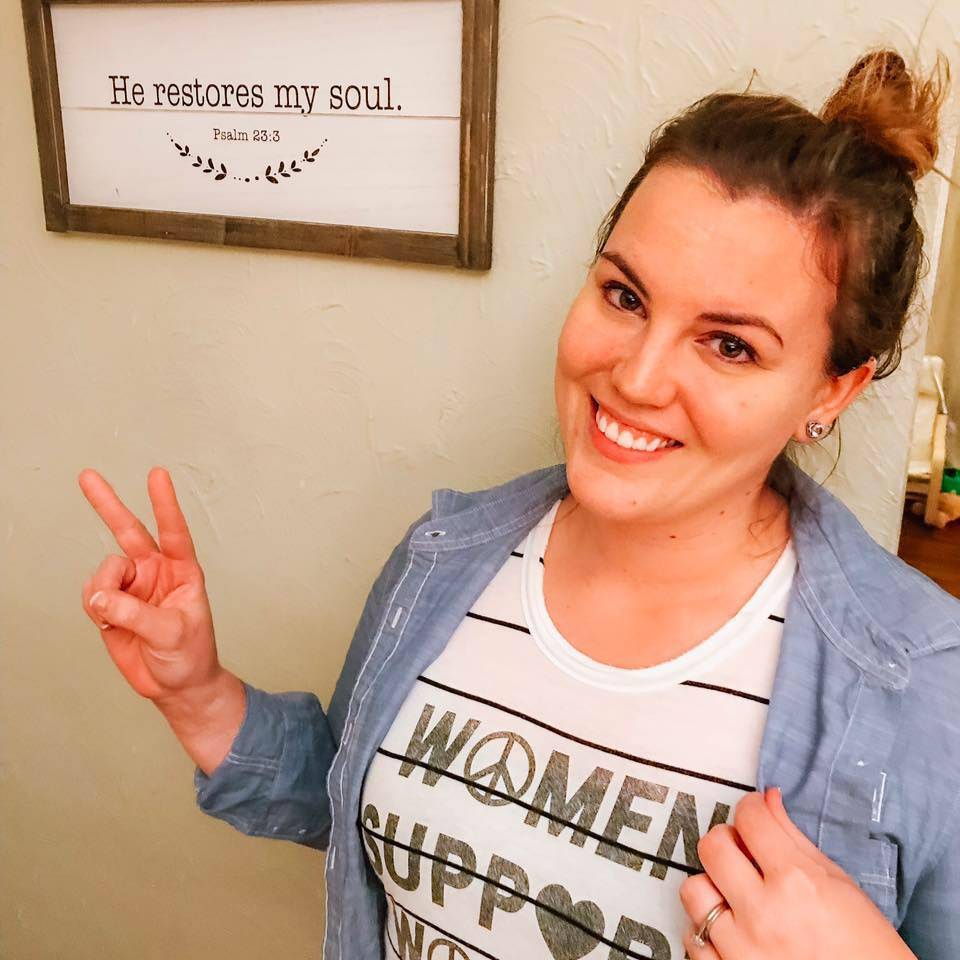 Kirsta is a millennial wife and mom of three just doin' her best.
A nonprofit fundraiser by trade who believes in the magic of under-eye concealer and a good eye brightening stick, she follows Jesus's standard for loving others. In her free time, she can be found watching Netflix with her husband, scrolling Instagram stories, or pacing in the kitchen to log steps on FItBit challenges.